Imagine this: You've just walked into a crowded room full of strangers. Your mission is to meet new people, make friends and build a network.
Go! Start networking!
This used to be my mission (and nightmare) every time I had to go to a networking event, party or group get-together. And I always would end up wondering, "Why did I even come to this thing?"
Networking events suck. Parties full of strangers suck. Trying to work a room sucks. Here's the thing I'm here to tell you: It doesn't have to suck. I was so tired of going to events that were a waste of time, overwhelming or awkward that I decided to find a way to change it.
As a recovering awkward person, I figured out the art and science of hacking a networking event. Today, I am going to share those tricks with you.
1. Name Tag Tip
I have an insider tip on name tags: always, always look at other people's name tags before filling out yours. I can't tell you how many times it's happened to me where I look like a giant nerd because I have filled out my full name and company and everyone else just has their first name. Or worse, I just write my first name and everyone else practically has their resume written on their chest. Save yourself the pain and get in the habit of checking out others first.
2. Create A Relationship Action Plan
Have you sat down and planned your networking efforts? In his book, Never Eat Alone, Keith Ferrazzi says that a fatal mistake people make is failing to realize that building a strong network is just like any other goal. You need an action plan that outlines who you want to build connections with and how you plan on doing it. Here's how to make your Relationship Action Plan:
Make two lists. The first one will be people you've met and want to strengthen your relationship with. Examples include colleagues, cool people you've met at events and other acquaintances. The second list will be people you want to meet. For example, leaders at work, members of a community you want to be involved in or influencers in your niche.
Create an action plan. Take each list and decide on actions you're going to take to meet or strengthen your relationship with each person. As you do this, strategize the best ways to connect with each individual. For example, if you're meeting for the first time, focus on making a great first impression. Or, if you already know the person, find ways to talk to them more often by setting up monthly coffee dates.
Update your Relationship Action Plan regularly as you foster connections and develop new goals. The more deliberate you are in your networking efforts, the faster you'll build relationships.
3. What to do at a Networking Event
The biggest rookie mistake I see is when people plant themselves right at the entrance of a networking event to meet people. This is the worst spot! Here's why:
When people walk into an event you have to give them time to breathe! Instinctively, when we are in a new place around new people we want two things: Nourishment (typically a drink or food) and to survey the room. So, don't plant yourself right in the doorway. Anyone you pounce on right as they enter only will be thinking about getting something from the bar, loading up a plate or trying to check out the room surreptitiously over your head.
The best place to stand is right where people leave when exiting the bar. This way, they have a drink in their hand and they are ready to mingle. This is always where I plant myself when I'm at networking events and it makes for super easy conversations.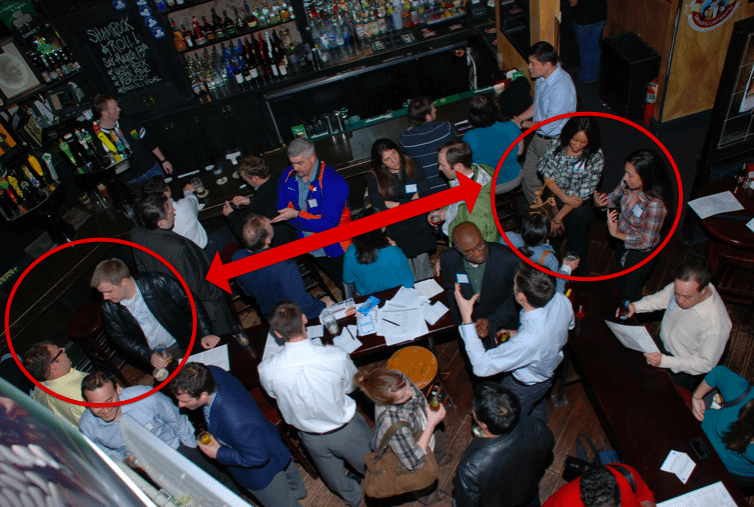 4. Treasure Lines
Never pass up the opportunity to meet someone while standing in line. It is the easiest, non-awkward way to meet the person in front of and possibly even behind you. The bonus is that if you don't enjoy speaking with them, you easily can end the conversation once you get your drink or food. At a networking event where I really don't know anyone, I will get back in line when it is extra long so I can meet more people easily. If you need help thinking of something to say, check out our killer conversation starters.
5. Use the Head Tilt
It can be hard to make real connections at networking events, but it's possible. And I do it using body language. My favorite move is the head tilt. The head tilt is the universal body language sign for "I'm listening." You can do this when someone is speaking to show you are paying attention and excited to meet them. This makes you more charismatic.
6. Be a Business Card Master
Two problems always happen with business cards at networking events. First, awkwardly searching for your business card when someone asks for it. Or second, losing someone's business card so you can't follow up the next day. Avoid having to dig through your purse or wallet to find a business card or losing the ones you get by using my system–right pocket: my business cards, left pocket: other people's business cards. You'll never lose a card again and it makes the exchange super easy. By the way, if you have a purse, use one pocket for yours and one for someone else's.
Action Step: Is your business card boring? Read our guide on making your business cards rock.
Insider Tip: A great blog post on Eventbrite also suggests Peeping the Guestlist before an event, which really can help you target the right people.
7. The Name Association Trick
Remembering names can be a nightmare, especially when you have met someone multiple times! I am going to show you how to never forget a name again. Researchers from Emory University attempted to improve people's name retention and recall over three sessions. In the first session, each participant took a face recall test to establish their baseline ability. In the following sessions, each participant was taught a memory strategy. After only a month, the participants significantly improved their recall ability, some up to 69 percent!
Here's what they learned. Attach a visual cue to a unique facial or body feature. This memory strategy comes from the EON-Mem (Ecologically Oriented Neurorehabilitation of Memory) program. Here is an example: This is my friend Lacy. If I met her at a party, I would think her hair looks just like an Ace with the pointed A top. Ace = L-Ace-Y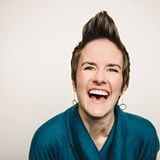 Use this technique and you always will remember people's names. It also will help improve your creativity!
8. Diversify
Humans are social creatures. We thrive by helping each other grow. Nearly everything you accomplish is a result of the people you spend time with. From sharing information about new opportunities to playing an influential role in your personal development, your network – every person you know – is there supporting you along the way. This is why building relationships is such an important skill. Every person you meet is a vault containing a wealth of insight, knowledge and experience. As you get to know people, you get to share that wealth and use it to make your own life richer and more successful.
This is why having a large, diverse network is critical to success. But, how do you build one?
Pick a tangential niche. Think about the circles you frequent — are there any tangential circles? For example, when I first moved to Portland, Oregon, I joined every entrepreneur group in town. Very quickly, I met the community and stopped growing my relationships because the same (amazing) people kept showing up. I thought about what circles could be close to entrepreneurs, but not the same. I tried travel groups next. Entrepreneurs often travel since they can work virtually, and I got to meet new entrepreneurs as well as fascinating individuals who travel the world.
Find anchor tenants. Ferrazzi calls the first people you connect with in a group 'anchor tenants' and the principle is if you earn their respect, then you instantly gain credibility with the anchor tenant's friends. Not only is this a great strategy to meet people outside of your social circle, it also saves you time. Rather than trying to connect with an entire group of individuals, you can focus on one or two key people and get to know the rest later.
9. Work the Food Tables
It is great to stand where people exit the bar, But DON'T stand where people exit with food. This is not as good, because if you start speaking to someone with a full plate of food, it is hard to shake hands and all they want to do is eat! Instead of standing where people exit the food station, you can stand at cocktail tables or seat yourself at tables where people eat. This is much easier because people can put their plate down and chat as they eat casually. Plus, studies show that breaking bread with someone builds rapport faster than just talking.
10. Help Others
"Can I help you?" Asking this question is one of the most effective ways to build long-lasting connections. Once you help someone, you instantly become more likable because you relieved some of their stress and added value to their life. Just like showing your appreciation, offering to help is a strategy that will earn you a positive reputation because you're focusing on other people and not yourself.
"The more people you help, the more help you'll have and the more help you'll have helping others." – Never Eat Alone
How you help people doesn't have to be difficult. All you need to do is offer your knowledge and/or your time – a small price to pay to gain a new relationship, especially with influential people who often need the most help. You also can help others by harnessing your curiosity. This is one of my favorite tips for being more social. When you're speaking with people, think about answering the following questions:
What motivates this person?
What is important to them?
What energizes them?
What do they love to talk about?
What shuts them down or closes them off?
What do they value?
Make it your goal to answer these questions about every person you are speaking with to give yourself a social mission. Before you know it, the person will find you fascinating, even though you have been trying to learn about them!